Match Report: Charlton 1 - 3 AEK Athens
Published Sunday, August 07, 2005 by JamesBB2 |
E-mail this post

---
After a great match on Wednesday night, I was expecting another exciting match today. But that was not to be! Shame really, my Dad hasn't been to the Valley for over a year and today he witnessed shite! Curbs had brought in Sorondo and Jeffers in to replace Hughes and Powell. Ok so I thought twice about the Jeffers change, but it would be good to see Sorondo in action. Bringing in Jeffers nearly paid off as he hit a volley that narrowly missed seconds after kick off.
The team played poor. Athens got a penalty after some sloppy defending and put it away, with Andersen diving the right way. A few minutes later, Rommedahl got on the end of a cross and neatly chipped the keeper to make it 1-1. That's what it stayed at until half time.
Literally minutes into the second half, Athens had taken the lead with our defence no where to be seen. Dissapointing. Well we still had the majority of the second half to go and equalise. We had that chance when we were awarded a penalty when double H was brought down in the area. Jeffers steps up, and its bloody saved, and he hits the rebound over the bar. GRRR! That was our only real chance in the second.
To make matters worse, Athens scored an easy tap in during injury time.
A poor match with no real credit due to anyone. Andersen making some good saves again.
Lets hope we don't take this to next seasons opener against Sunderland.
Till then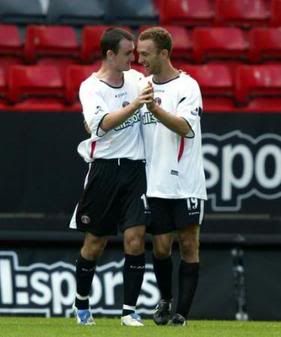 Shall we do the Konga?!