Myself, Matteo, Jack Ross, Chris and Joel made the trek up to The Valley tonight to see the 2nd round of the Carling Cup. Not going in with the best of confidence, as our cup runs normally end abysmally, we all calmed our nerves in the pub with a pint of guinness. Then up to the North Upper, to sit with the rowdy lot! Wayhay! J block this time!
The team had a few changes, with Spector, Sorondo, Holland, Bartlett, Lloyd Sam, JJ and Myhre all brought in to start.
A pretty much boring first half until the final 10 minutes, Hartlepool scored a decent goal from the edge of the area. Damn! I thought this was going to be one of those forgetful nights at the Valley. But no, I was wrong, a couple of minutes later we got a penalty when Lloyd Sam was fowled. JJ was to take it and he converted to make it 1-1. A few more minutes of pressure that succomed to nothing, the half time whistle went.
So after half time, we saw Bent in his kit run out first! Yes, he will be on to win the match for us. Bartlett came off for him, good! With more chanting from the covered end and Chris with his continuous seat banging, we seemed to find a deadlock, when Darren Bent converted a corner to make it 2-1. Yes yes yes!
"Were gonna win the cup"
Bothroyd then came on for JJ and within seconds had a decent shot go inches wide. A little later on, we got a free kick a few yards from the edge of the box, Murphy (who replaced Smertin) layed it off to Bothroyd who smashed it into the goal with his left foot. Amazing, the kid is here!
The match went on to finish 3-1, into the next round, safe in the cup for a while!
A good match in the end, it was a good atmosphere for the singers in the north.
Man Of The Match:
Lloyd Sam (a great start)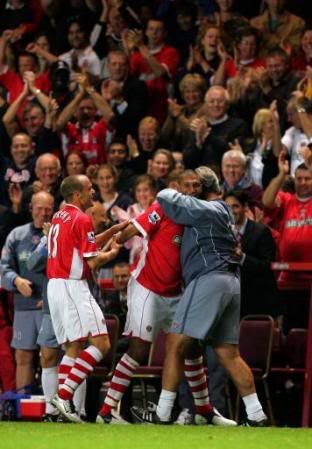 A few more pictures that I took: